Commercial Management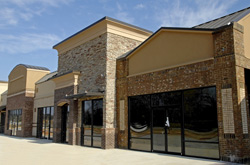 Build Outs
For buildings with one or more commercial tenants, we provide build-out services, which include the construction of partitions, conference rooms, glass window panels, and other commercial interior improvements for Milwaukee area businesses.
Remodeling
Commercial renovations are also part of our commercial management services. We have experience working with buildings of all types, from a one story office building to retail centers, and more.
Handyman Services
We also provide local handyman services for businesses in Milwaukee. This includes changing lightbulbs, fixing broken window panes, pressure washing, hanging mirrors or artwork, door knob repair, and other small commercial repair jobs as requested.
Minor Plumbing & Electrical
Pennybag Property Management also provides commercial minor plumbing and electrical services. This includes fixing a clogged drain, leaking faucet, and drain pipe repairs, among other small jobs. We can also repair electrical outlets, fuse box switches, and minor electrical repairs for commercial properties in the Milwaukee area.
Gutter Cleaning
Our contractors also provide gutter repair, including cleaning your gutters to remove blockages such as leaves or pieces of ice. We clean downspouts and all areas of your gutter system no matter the area size.
Snow Removal Services
In the winter, we also provide commercial snow removal services, including shoveling snow, snow clearing from parking lots, and salting areas that have ice to avoid falling hazards.
Painting
Pennybag Property Management also offers painting for commercial properties in the Milwaukee area. Whether you need a minor touch up or a completely new coat of paint, we provide the best in interior and exterior painting services.