We Buy Property in the Milwaukee Area
Pennybag Properties buys homes in any price, condition, or area. There are several reasons why a homeowner may want to sell their home quickly and efficiently.
Foreclosure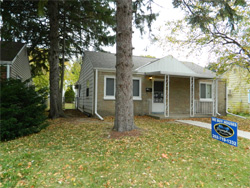 If you are facing foreclosure the best advice we can offer you is to take action quickly! Many people in the midst of foreclosure sit back and don't do anything, hoping a miracle will happen. That is a dangerous choice to make. In most cases, assuming the income resulting in foreclosure will not be replaced in the near future, the best decision is to sell the home. It is much better to sell a home and start over than to be displaced in foreclosure with your options all but gone. Pennybag Properties can bring your mortgage payments up to date and give the equity out of your home back to you. If there is no equity, we still may be able to help.
Time is NOT on your side with foreclosure. If you are as little as three months behind, the proceedings may have already begun. You don't want to add interest and legal fees to your balance—these can cost you thousands! The quicker you contact us, the easier it will be for us to help you. Contact us for a consultation about how Pennybag Properties can get you cash out of your house and save you from foreclosure before it is too late. We are not here to take advantage of you in a tough situation; rather we figure out a solution that benefits everyone involved.
"Ugly" House
For a home to sell quickly when working with a typical realtor, it almost always needs to be in "move-in" ready. That includes completing all needed repairs and ensuring the house has a fresh, pleasant atmosphere. Potential buyers want a comforting, welcoming feeling when they arrive to view a house. Is your home currently creaky and uncomfortable instead?
We buy homes that need any major repair such as a new roof, fire damage or foundation repair, and mold removal. Pennybag Properties will purchase homes in need of a new kitchen, carpeting, paint, bathroom, or almost anything else. We guarantee you we've seen worse and are interesting in buying the home so it can be restored.
Multiple Mortgage Payments / Can't Sell
Have you moved into a new home but can't sell your old one? This happens more often than you think. Don't let your old home fall into foreclosure and ruin your credit. Pennybag Properties has bought homes from several families facing this situation. Let us do the same for you.
Are still in the home you want to sell because it's been listed with a Realtor for many months with no serious offers? Many homeowners face this problem. They simply cannot sell their home, whether it is the fault of the realtor, lack of traffic, the time of year, or something in the home itself. Whatever the reason, Pennybag Properties will be your serious offer, so give us a call.
Health Problems
Have problems with your health caused problems with your house? Are you behind on your mortgage? Maybe your home has become neglected because health your health is prohibiting you from working on it. Maybe you feel it would be better for you to relocate to a smaller home or apartment. We have worked with many homeowners who have faced these issues and we can work with you, too. Pennybag Properties can help you avoid foreclosure, end need for repairs, or both.
Divorce
Pennybag Properties understands the difficult, emotional process of going through a divorce. We can take some of that stress away by helping you sell your home before, during, or after a divorce. We can help with division of property because we buy quickly, often within 7 days, at a fair price.
These situations can happen to anyone, and Pennybag Properties can assist you with any of them as well as reasons such as job loss or relocation, an estate sale, low or no equity, and more. We can pay cash and take over the mortgage payments.