Property Management Careers in Milwaukee area
Pennybag Properties is a growing and evolving company and we are continually in need of new talent and passion in this industry. Even when there are no actively open positions, you can send us your resume and we'll keep it on file and contact you if a fitting opportunity comes up.
Part-Time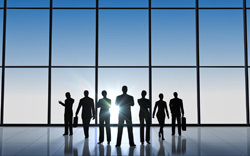 Pennybag Properties is looking for Foreclosure Researchers! This is a great opportunity to learn about the real estate business by researching our foreclosure list. You will be "out in the field", speaking with homeowners and gathering information. You can create your own schedule and work the hours you want to. Earn $20 per seller that you convince to contact us and $15 per seller that gives us permission to contact them. The main requirements are a car and a cell phone. Please contact Mike at Pennybag Properties if interested.
Office Personnel
Pennybag Property Management is currently seeking an experienced individual for our office personnel position. Job duties will include answering client phone calls and emails, organizing client and internal office files, creating company marketing documents, compiling and distributing property inspection reports, and other office organizational duties as needed on a day to day basis. The ideal candidate will have experience working with Microsoft Office, type 45+ WPM, and possess excellent written, oral, and verbal communications skills. Attention to detail and administrative writing skills are also essential to being successful in this position.
Pennybag Property Management is also looking for contractors to assist in the management of residential and commercial properties in the Milwaukee area.
Plumbers
Pennybag Properties is seeking plumbers on a contract basis to install new plumbing systems and make repairs as needed for the tenants living in the properties we manage. We will work with master, journeyman, and apprentice plumbers.
Electricians
We are also seeking electrical contractors in the Milwaukee area to work for us and facilitate new electrical system setups, troubleshoot electrical problems, and make minor and major repairs at any of the property locations we manage. Our contractors may be on call to handle electrical emergencies such as smoking wires, and other urgent electrical repairs. Candidates will have experience installing wiring, appliance hookups, fuse boxes, lighting fixtures, and more. We will work with apprentice, journeyman, and master electricians depending on the current needs of our tenants and landlords.
Concrete Workers
Concrete workers in the Milwaukee area are also needed to work on a contract basis for Pennybag Properties. We are looking for individuals with experience paving driveways, sidewalks, and patios, along with workers who are interested in municipal concrete construction projects. Just some of the duties our concrete workers will have include clearing construction sites of debris and trash, removing hazardous materials from the construction area, shoveling asphalt, operating machinery to break up concrete, mixing and pouring concrete onsite, applying caulking, and smoothing out newly poured concrete with finishing tools. Experience in operating heavy machinery such as concrete trucks, backhoes, and jack hammers is also required.
Roofers
We are also looking for roofers in the Milwaukee area for contract hire. Job duties vary by the needs of each project, but include application of hot asphalt and tar to roofing papers, inspection of roofs for problem areas, setting up scaffolding, installing vapor barriers and layers of insulation on flat roof, and applying plastic coatings, membranes, fiberglass, or felt over slopped roofs followed by shingle application. From minor repairs to installing roofs for newly built homes, to complete reroofing, our roofing contractors should have a wide range of skills to adapt to any roofing job to which they are assigned. If you are interested in working with Pennybag Properties, send us your resume and cover letter.